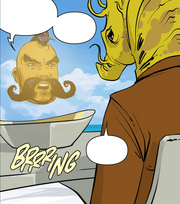 The March
is a
Freelancer
who is represented by
Erving
and the
Brio Talent Agency
. He is upset because he has yet to be payed for a hit.

Lare revealed to be one head of a double headed being, the March returned to kill Izabel, having decided to hunt for Hazel and her parents on Wrath. Was later killed by Marko in retaliation for the earlier slaying and threatening of his family.
Ad blocker interference detected!
Wikia is a free-to-use site that makes money from advertising. We have a modified experience for viewers using ad blockers

Wikia is not accessible if you've made further modifications. Remove the custom ad blocker rule(s) and the page will load as expected.