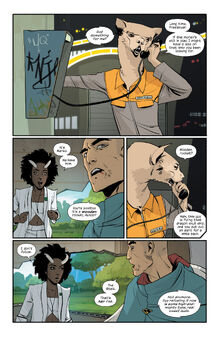 Saga #14 will be published in September 2013 and is the second chapter in the third volume of Saga.
Synopsis : Alana's "kidnapping" is investigated by journalists Upsher and Doff from The Hebdomadal while the family and Heist get to know one another. The Will struggles with commitment to his freelance duties just as his informant tips him off to how close Prince Robot IV is to capturing Alana and Marko. Edit
References
Edit
Ad blocker interference detected!
Wikia is a free-to-use site that makes money from advertising. We have a modified experience for viewers using ad blockers

Wikia is not accessible if you've made further modifications. Remove the custom ad blocker rule(s) and the page will load as expected.