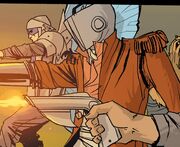 Baron Robot XXIII was an agent of the Robot Kingdom. He led a Coalition task force charged with hunting down Alana and Marko. He was killed on Cleave in a battle with Wreath forces shortly after Hazel's birth. After his death, Prince Robot IV was assigned to hunt the fugitive family.
Ad blocker interference detected!
Wikia is a free-to-use site that makes money from advertising. We have a modified experience for viewers using ad blockers

Wikia is not accessible if you've made further modifications. Remove the custom ad blocker rule(s) and the page will load as expected.